Walking around Rawabi, residents, and visitors are able to enjoy original artwork by artists from all over the world.
In 2013, twelve international artists from eight countries came to Rawabi to create beautiful public artworks out of Rawabi's distinctive gold-hued limestone. Each of the sculptures was then presented as a gift to the new city to honor its vision. In recognition of the artists' contributions and generosity, Rawabi honored them in a special awards ceremony attended by Radek Rubes, Representative of the Czech Republic to Palestine and a host of cultural luminaries, government officials and a large number of Rawabi homeowners.
Among Rawabi's public art installations are many sculptures by leading Palestinian artists, Suleiman Mansour and Nabil Anani who visited Rawabi in 2012 and were inspired by the city's contribution to Palestinian society.

Rawabi's First Family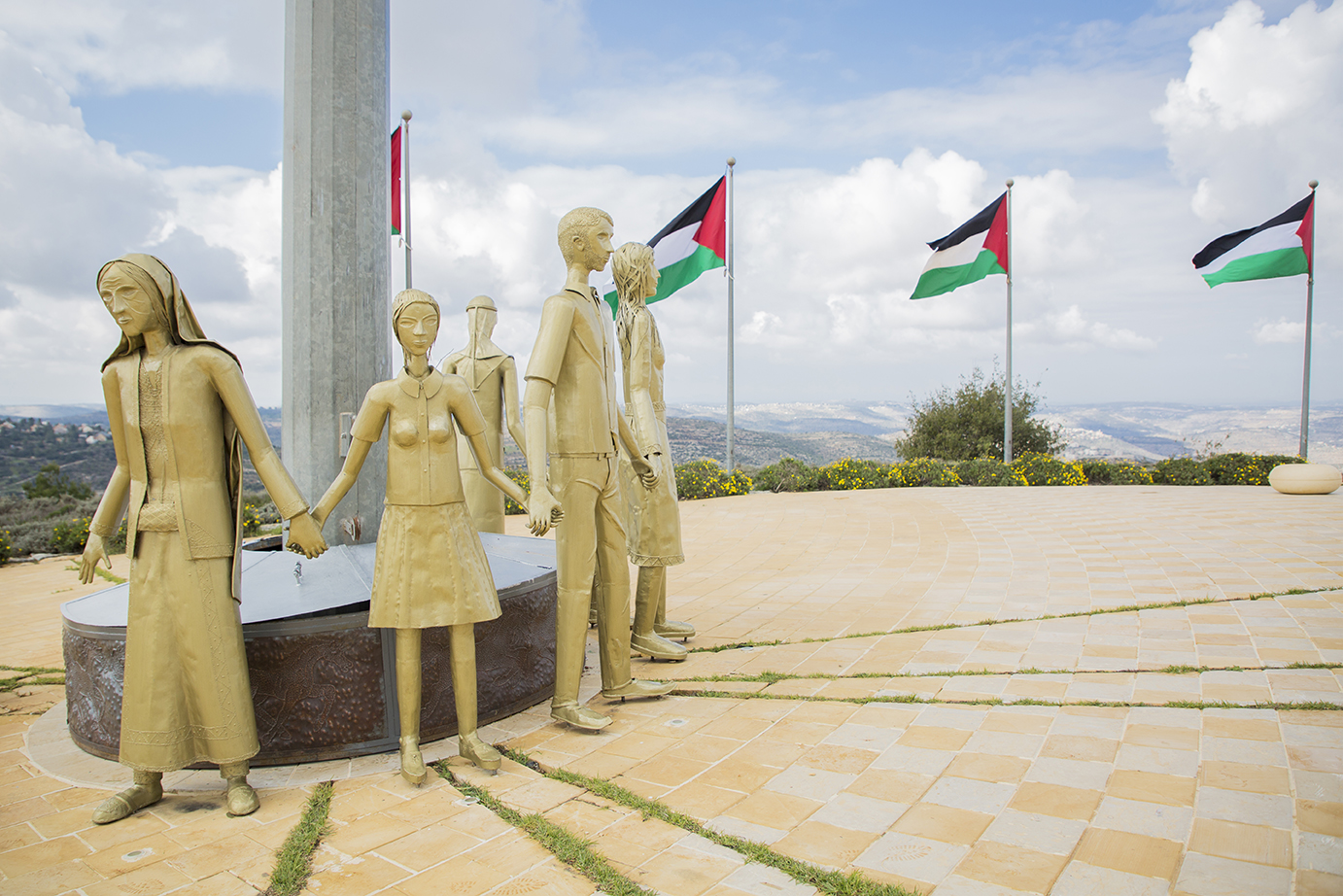 At the base of Rawabi's enormous Palestinian flag, visitors meet 'Rawabi's First Family', life-size sculptures of a Palestinian family. The sculpture showcases generations of a Palestinian family and was created by Palestinian artists Suleiman Mansour and Nabil Anani.
Also by Suleiman Mansour and Nabil Anani are sculptures of a woman welcoming visitors to Rawabi's Visitor Center and two figures enjoying the center's beautiful garden.
The Hand on the Hill – Eugen Petri from Romania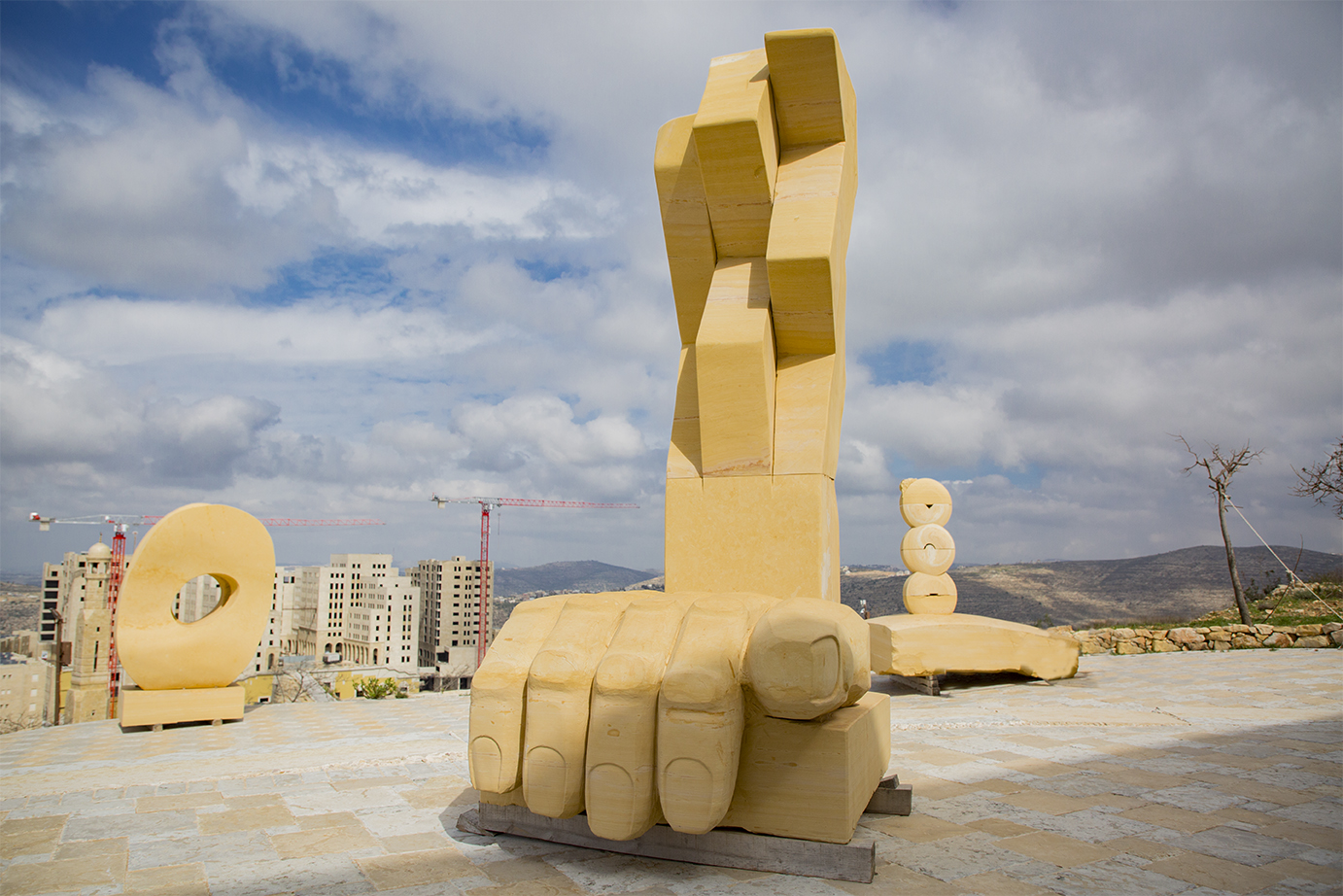 "The concept of the sculpture is a connection between the earth and the sky. The hand represents the power of the human being in the world and is connected with the sky by the moving flag, in geometrical forms like columns. The sculpture's title references the song "The Man on the Hill" by The Beatles, symbolizing the difficulty and value of maintaining a clean conscience and sound mind in a world which becomes every day more paradoxical and unfriendly. Therefore, this is an homage to those who believe and actively work to make the world a better place, even if the odds are against them."
Cubic - Thierry Ferreira from Portugal (currently displayed on the roundabout close to the 6th neighborhood on the way to Wadina)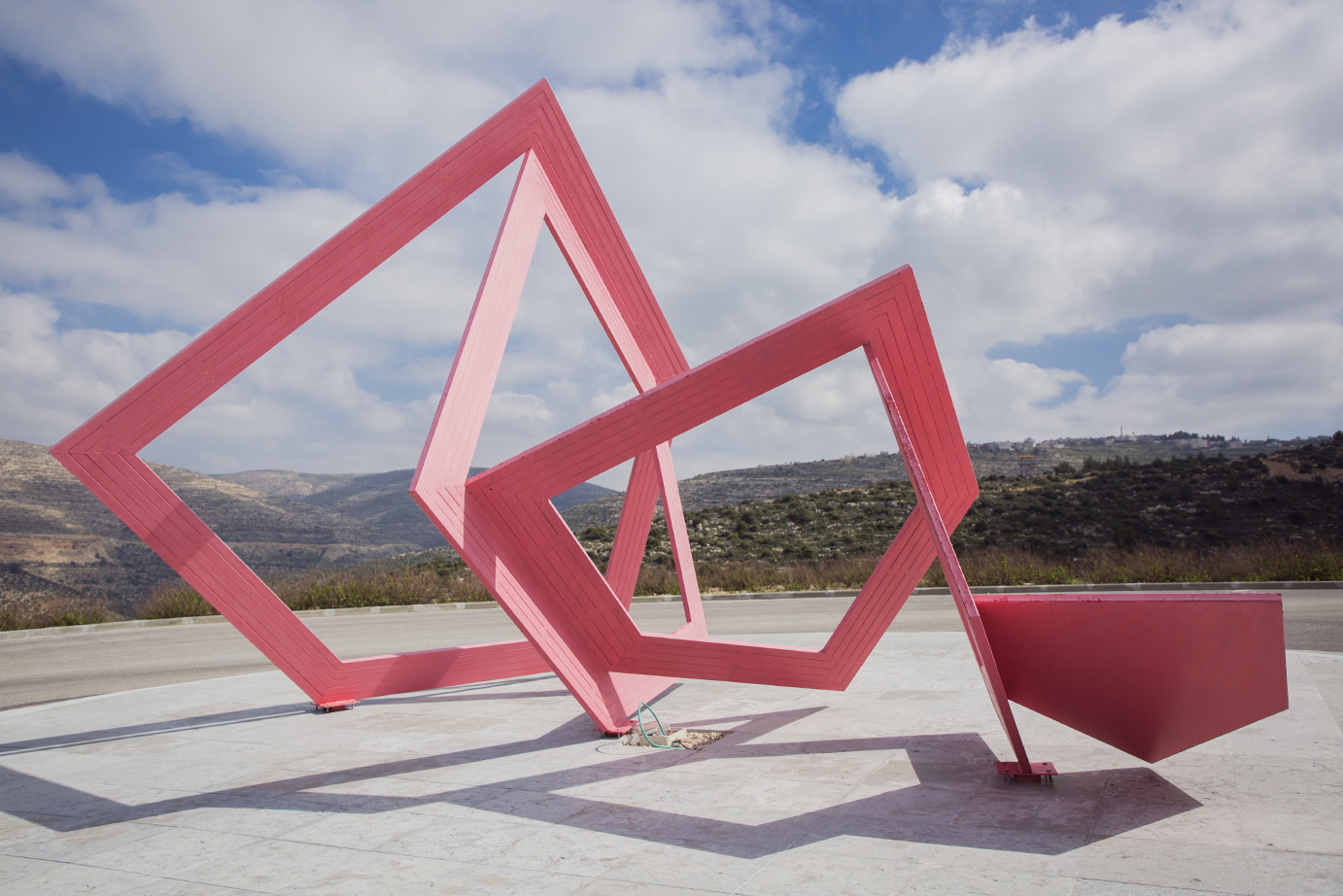 "We can face the idea of origin as the beginning of something inalterable, as if the past had no influence over that origin and appeared in the present only through shattered signs, making the principle of origin like a fixed point in the timeline. We can also see it as something organic that is propagated through time, changing itself according to the circumstances, spreading over everything and everyone and visible both in the built and the human patrimony."
The Flowering - Jon-Pat Myers from South Africa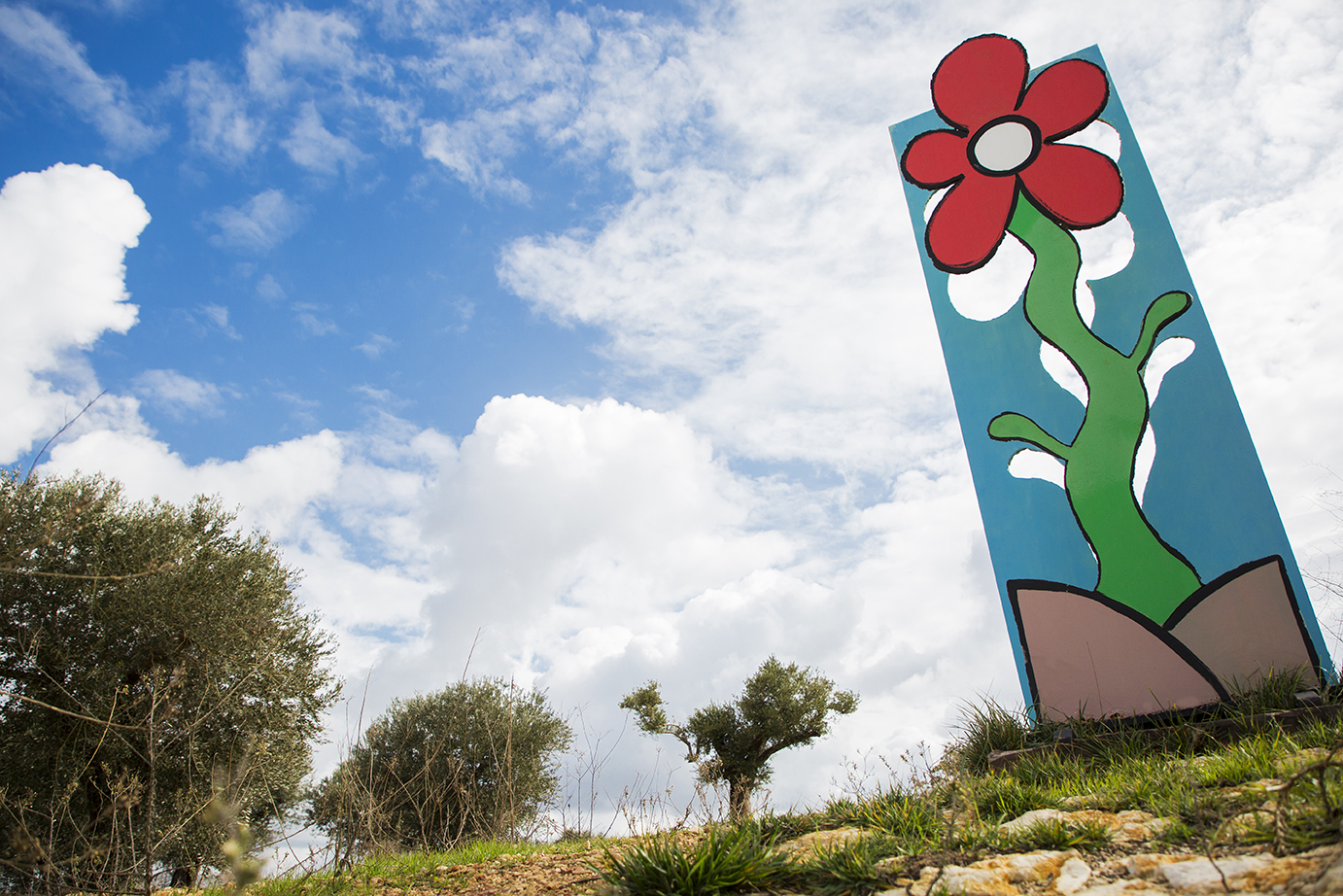 "The sculpture is a metaphor for the city of Rawabi itself. From the base, with the brown hills, there is the green stem rising towards the sky like hope and then the flower itself in full bloom displays the brightness of red petals and a pure white center within. All color planes are enclosed in a border of black. For me, Rawabi is the flower of Palestine and it is with this in mind that I choose to honor the city and the country at the same time by creating the flower in the national colors. The flower is a symbol of potential reached and it is my hope that this city will act as a beacon of hope and a source of pride not only to the people of Palestine but to nations around the globe."
On the Crest of a Wave – Lyudmyla Mysko from Ukraine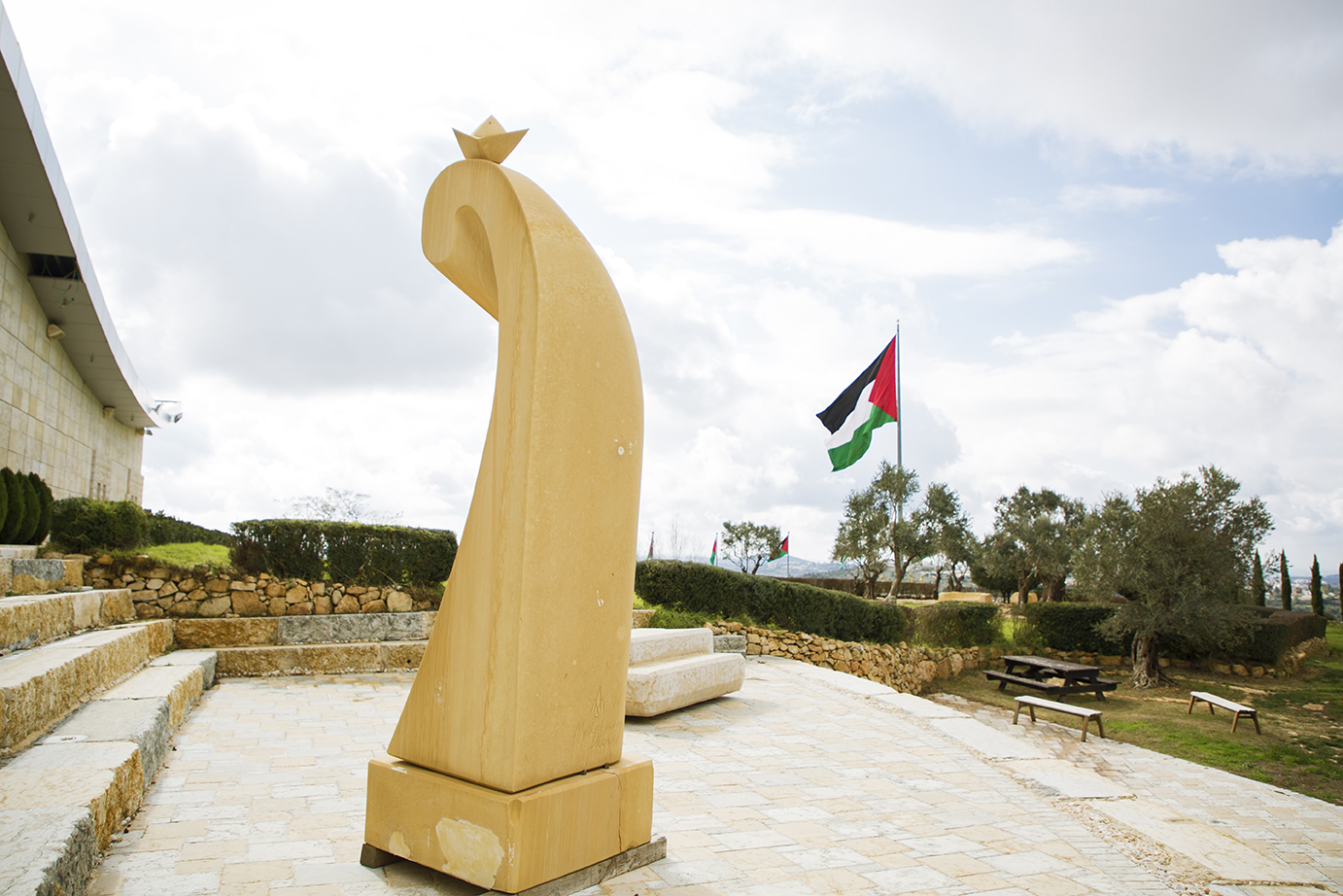 "It is an idiom – to be very successful so that many good things happen to you very quickly. My country, Ukraine, is now riding the wave of history as a small origami boat that doesn't sink. Origami is a means of environmental education for children. My work symbolizes the short bright moment of history."
Fractal - Chloe So Dong from South Korea
"Normal people don´t know about Fractal. This is a simple and repeating construction. So is the focus of my work: a cycle of circles, a bicolor converse construction, a never-ending repetition."
Materialisation - Gleb (Glebos) Tkachenko from Russia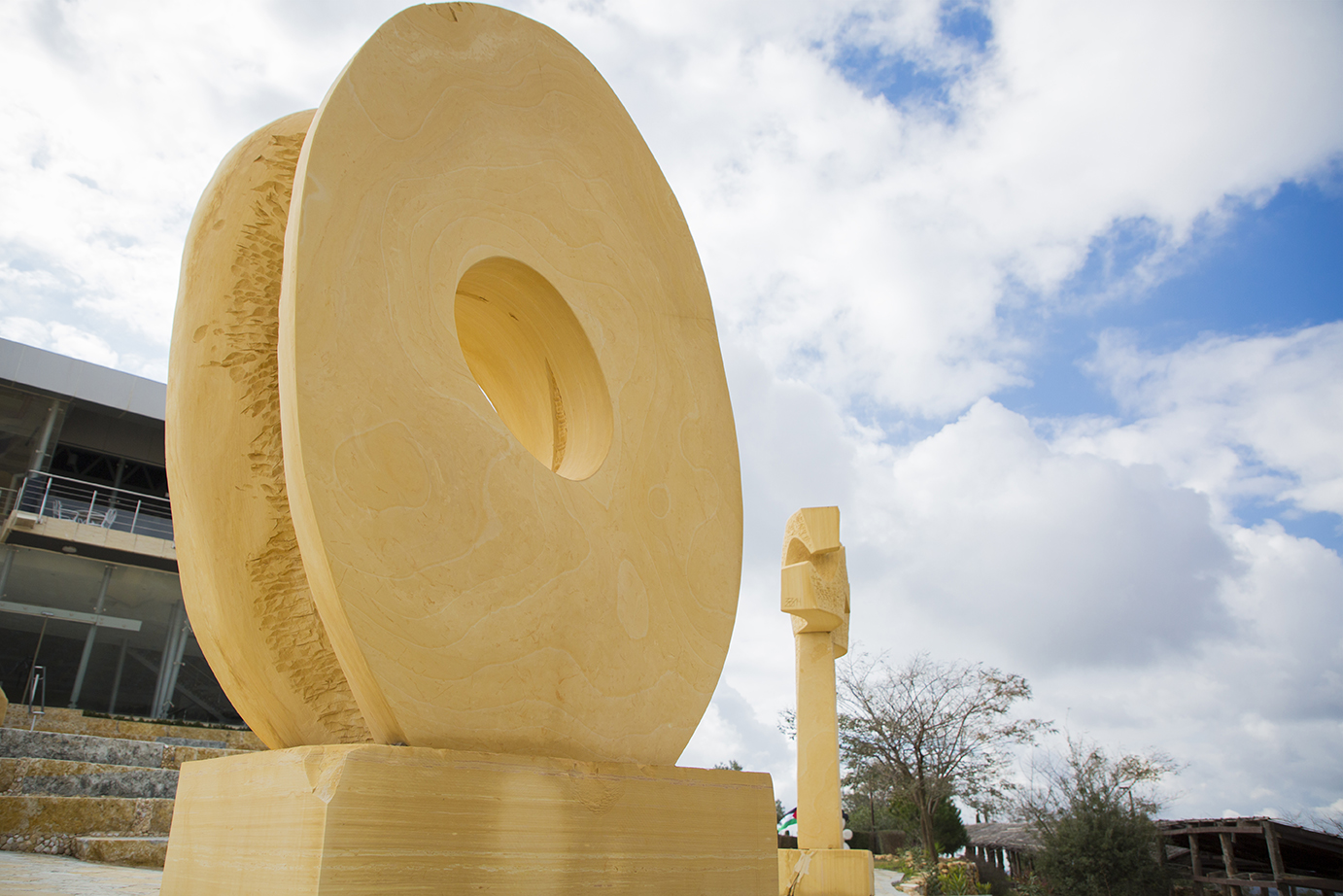 "This is our connection with God, everything and everywhere, the creation of the mind to the cursing. It is the crossing of the galactic, the big bang itself, the creation of the existence if it exists?!"
Frieze - Zdravko Zdravkov from Bulgaria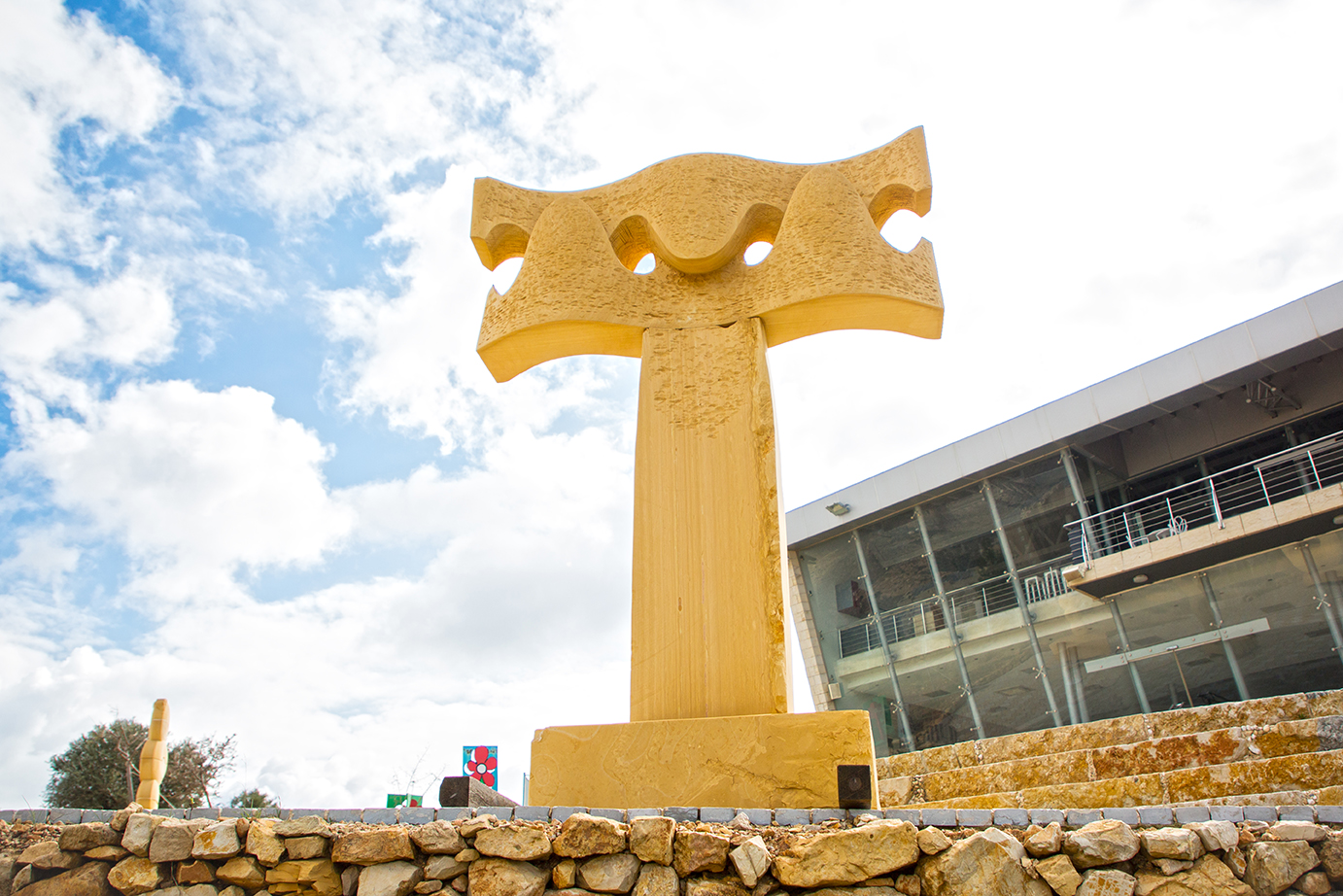 "This is a fragment of frieze which is creating a sense of rhythm by interweaved forms, as well as a sense of ethereality by the light passing through the hemstitches."
The Seed – Mihai Docea from Romania (Currently displayed at Q Center Plaza)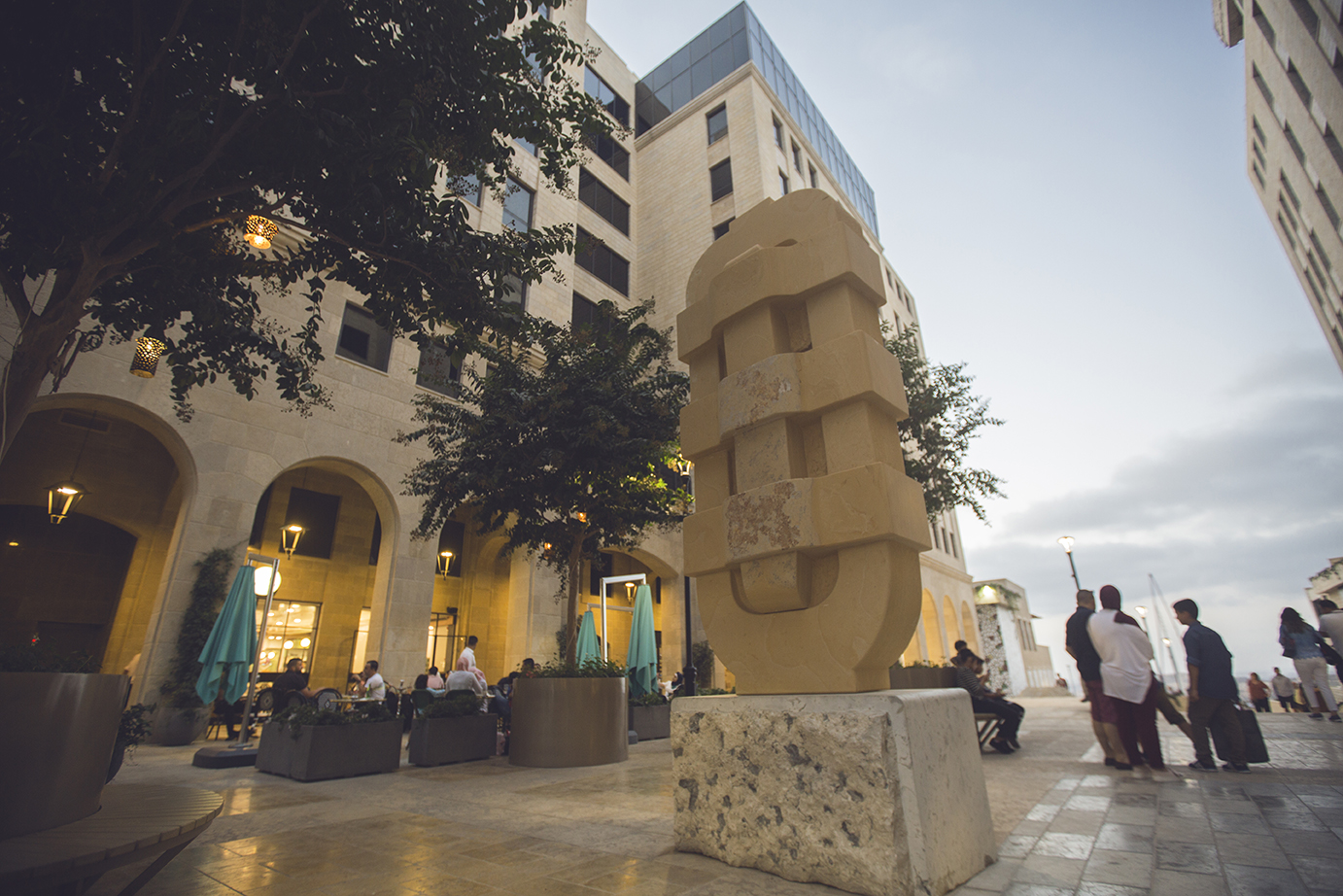 "The symbol of the Flower of Life has even appeared as a crop circle as the star beings continue to send us messages reminding us who we are. This symbol is the key that can unite all people, with the vibration frequency of creation and love that it holds within its shape. It can nurture the precious seed we each carry that holds the truth of our divine destiny. It is a symbol that can free us from the thinking mind and help us reconnect with our soul and knowing heart. Many believe this sacred geometric shape is an inter-dimensional tool, a portal, a stargate, and a window into the unseen world of nature. So, Mihai's "Seed" in Palestine is a symbol of love, peace and prosperity It is an artwork that was shaped out of a raw stone block the same way Rawabi's Palestine city was created out of a dream of unity, peace, and prosperity."
Snowman – Micl Novotny from the Czech Republic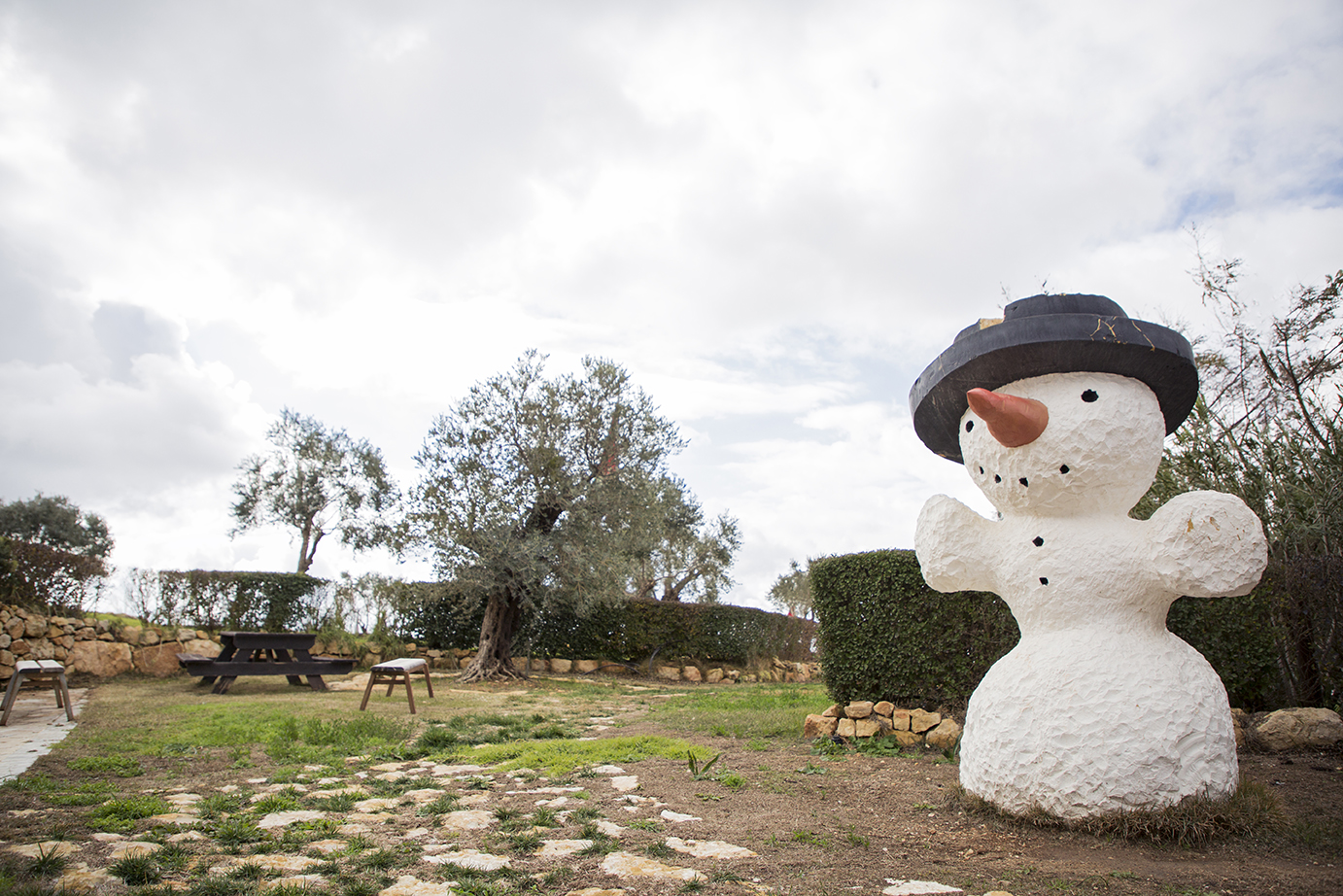 "The idea of the sculpture is to create fun and joy for Rawabi Children in different seasons."
Carrier – Pavel Doskocil from the Czech Republic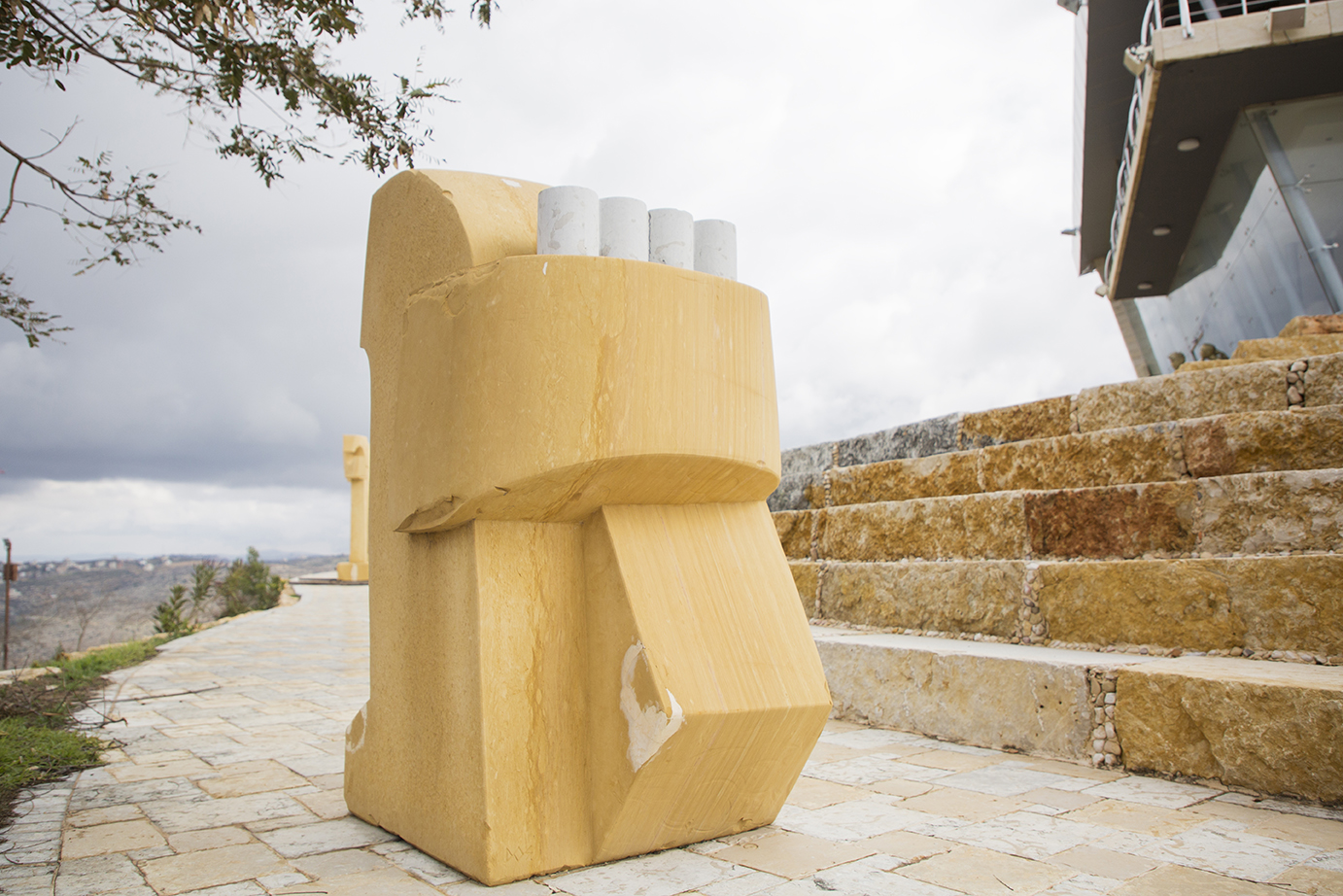 "A figurative sculpture in a cubistic form, the Carrier is the man who carries a bag as he walks. The sculpture is only about shapes."
Something - Pavel Simicek from Czech Republic (Currently displayed at Q Center Plaza)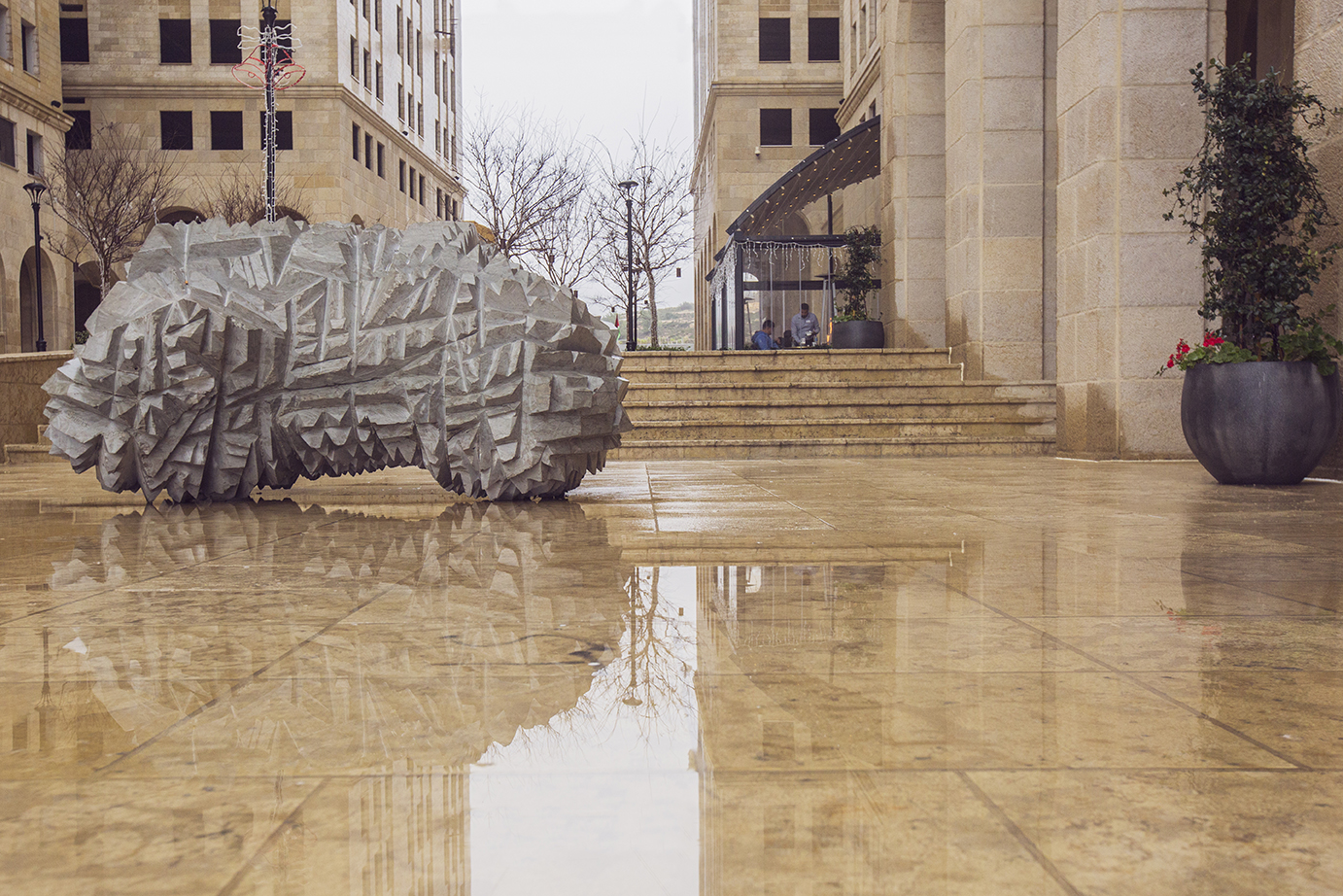 "The statue does not have a specific name. It may remind some of the seed plants, crystals, or something prehistoric and even extra-terrestrial. It depends on the viewer, where he directs his imagination. I would like this object to retain its own allegory. From a technical point of view, it is a polygonal object (polygon object), which is an organic shape with a geometric surface. In the production of this object, I discussed the relationship between the rule and chaos. "Rule" in this case is based on the shifting polygons and "chaos" contrary to intuitive - uncontrolled shifting. Sympathetic to me was the chaos in which the process of formation was much freer. I think much more could be achieved, for example, the dynamics, expressiveness, etc. The stone itself can also be observed occurring crystallized details (nest), which are then reflected (corresponding) in the overall form of the statue. Lastly, I mentioned that if I had to choose just yet for this statue a name, it would be "something"."
Pieces of Eight – Zuzana Kacerova from the Czech Republic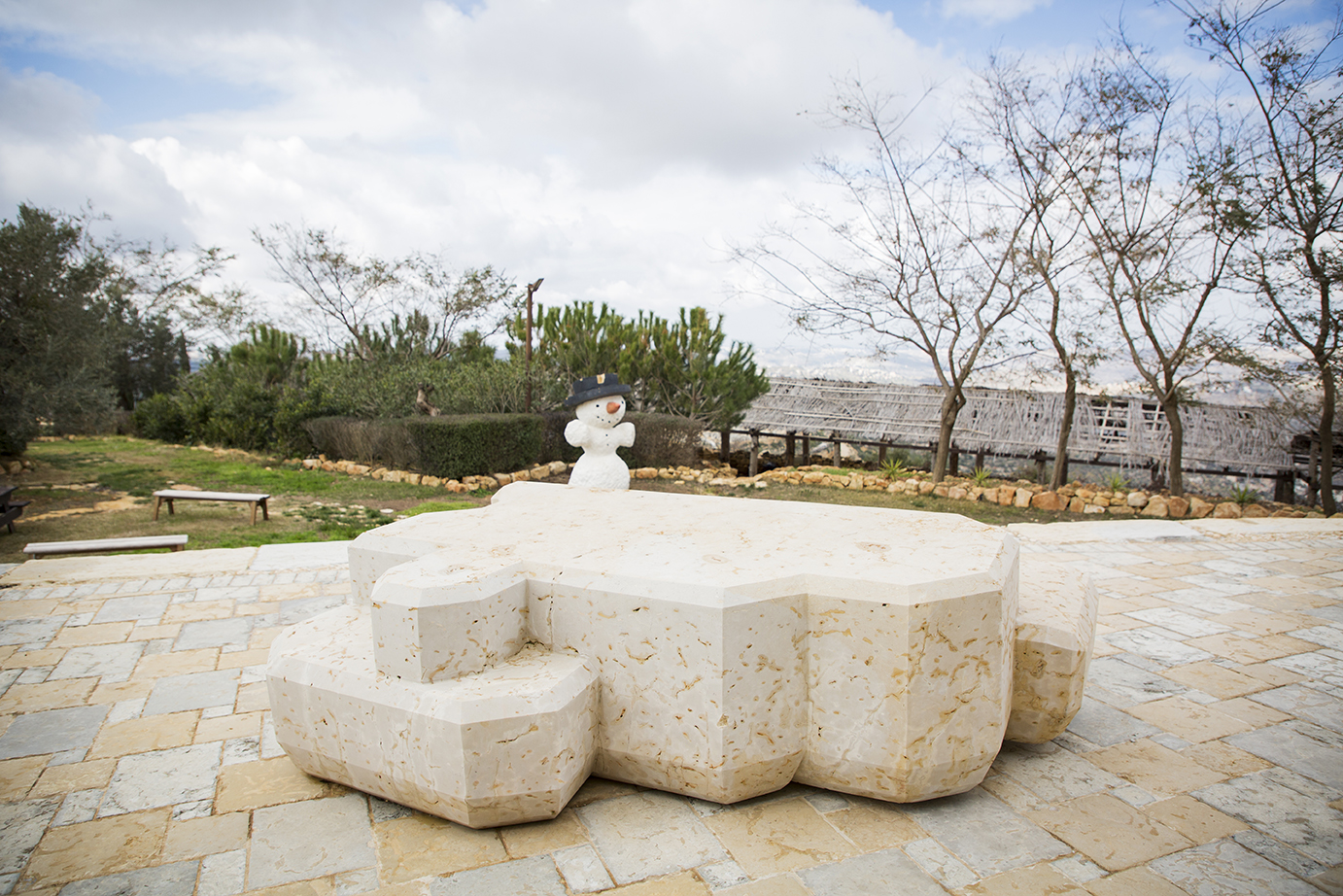 "During the work on the project, which was created as part of the first symposium for the city of Rawabi, I worked with a vision of a minimal form object. Throughout the process, the creation of my sculptures I was inspired by the visual language of pure Islamic ornament and beside that by the "cut of the diamond"? In these two principles I have in some respects in their work they found similarities and at the same time, I tried exploring the relationship between unity and multiplicity. Repetitive element "unfinished" octagon perceive as recurring motif central harmony in cultures all around the world. My work is generally still trying to build on classical sculpture with regard to geometry opposed to organic materials (plasticity, the proportions of volumes, proportions, dimensions and an overall idea of a sculptural way. The main means of expression, I chose octagon as carriers of minimum means of expression. The material used is local limestone block, measuring 230 x 110 x 38 cm. Limestone is a sedimentary rock composed largely of the minerals calcite and aragonite, which are different crystals forms of calcium carbonate. Most limestones are composed of skeletal fragments of marine organisms such as coral or foraminifera. I choose this material because of a couple of reasons coming from the characteristic of the material /the presence of mentioned imprints from the time when the stone was created at the same time of the creation of the "world" and besides all I mentioned because of the possibility to polish the stone. I believe that the work that I had the opportunity to create a form which is able to speak is for itself."